TRANSPORT
Milan is directly connected with all European countries, less than two hours from all European hubs ( Rome 1 hour, 1,30h Paris, 1,45h London, Amsterdam, Frankfurt Madrid) Milan Orio al Serio Airport is the Italian base of low cost airlines. Milan Central Station is the hub of the Italian raylways system and it isconnected to other European major city trough a fast speed train net.
ARRIVAL/DEPARTURES POINTS
There are 3 international airports nearby Milan:
Linate airport (www.milanolinate-airport.com): the Organising Committe will pick you up at the airport and drive you straight to the accomodations (it will take 10 minutes to get there).
Malpensa (www.milanomalpensa-airport.com) and Orio al Serio (www.orioaeroporto.it): both airports provide a great shuttle service, connecting them to "Milano Centrale" railway station with train and/or bus. From the railway station to your accomodations the Organising Committee will provide you a shuttle service: from the station to the lodge it's a 25 minutes way by car.
N.B. please let us know in time where and when your flight is arriving in Milan so to guarantee you the best service.
SHUTTLE SERVICE FROM THE AIRPORTS TO "MILANO CENTRALE"  
Train from Malpensa: it takes 1 hour to get to Milan's railway station; the one way ticket costs 13€ while the return ticket costs 20€ (www.malpensaexpress.it)
Bus from Malpensa: it takes 50 minutes to get in Milan; the single ride ticket costs 10€ while the return ticket 16€ (www.malpensashuttle.it)
Bus from Orio al Serio: it takes 50 minutes to get in Milan; the ticket costs 5€ (www.orioshuttle.com)
CITY TRANSPORT NET
Milan is totally covered by public transports.Underground and ground transports cover all the city round the clock seven days a week at a very reasonable cost (€ 4,5 daily - unlimited use ). Please find here below a map with the Underground systems. Milan has a public bike sharing service which, considering the limited distances among the accommodation center, sport facilities and nightlife area can be enjoined by participants. An agreement to guarantee a free or discounted use of the services will be negotiated with the City Council.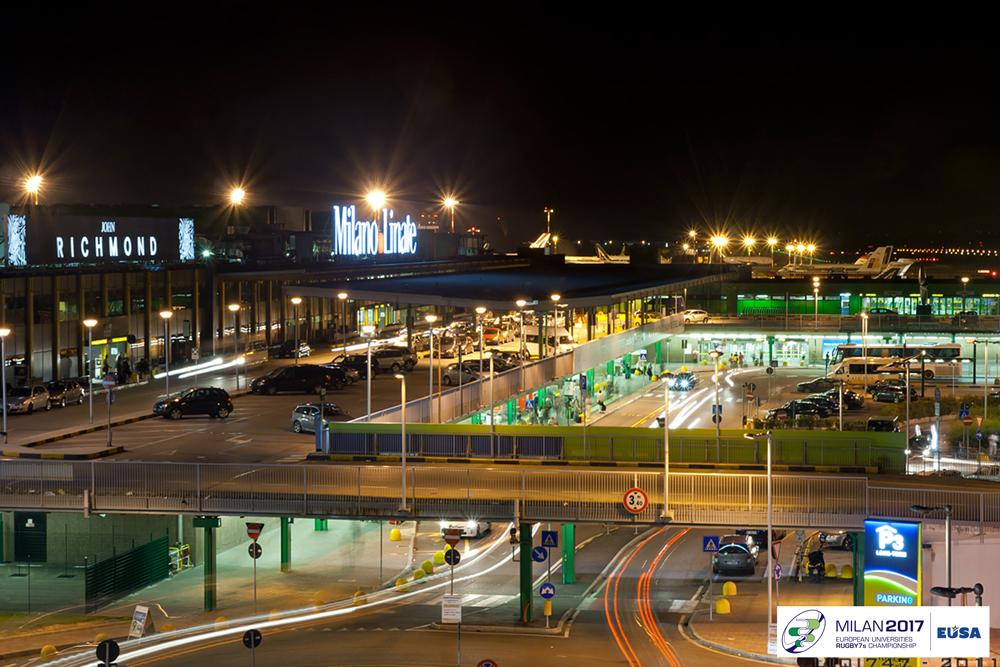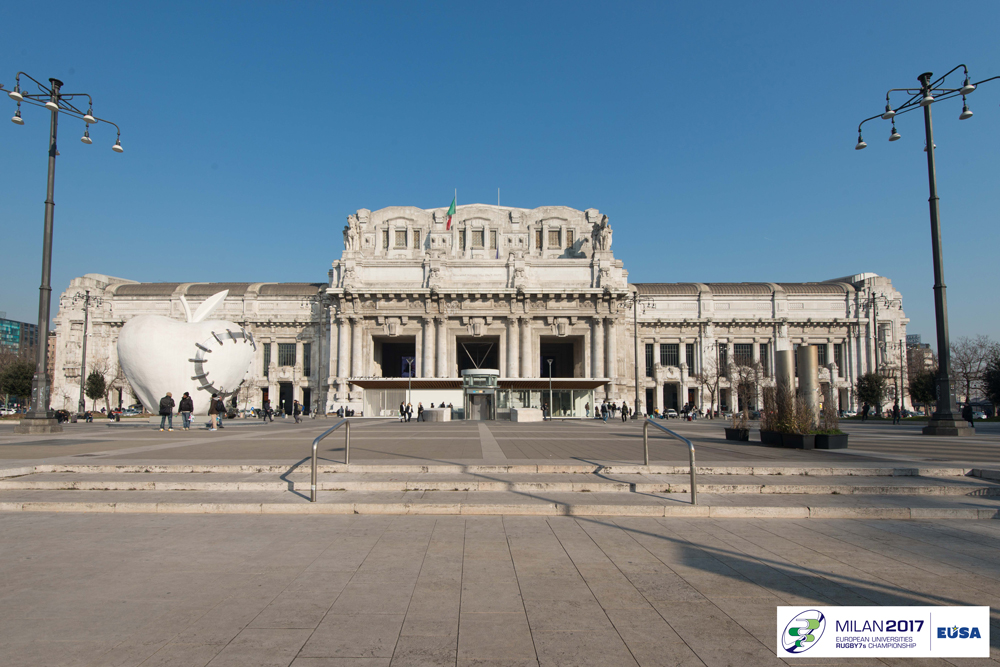 ACCOMODATION
The accommodation areas is conveniently located 10 minutes away from Linate International airport and only 2km away from the rugby pitch: teams will be hosted at Campus Martinitt. 
The building, dating back to the XVI century, is split in 5 pavilions surrounding a big courtyard and has single-bed rooms with private toilet. The campus can offer a bistro (open from 7am to 12pm), where you can have snacks and soft drinks, and a dedicated WiFi area to keep you up on the latest rugby news!
The campus is:
5 minutes from the Giuriati stadium
20 minutes from the Arena opening cerimony
25 minutes from Stazione Centrale, the central railway station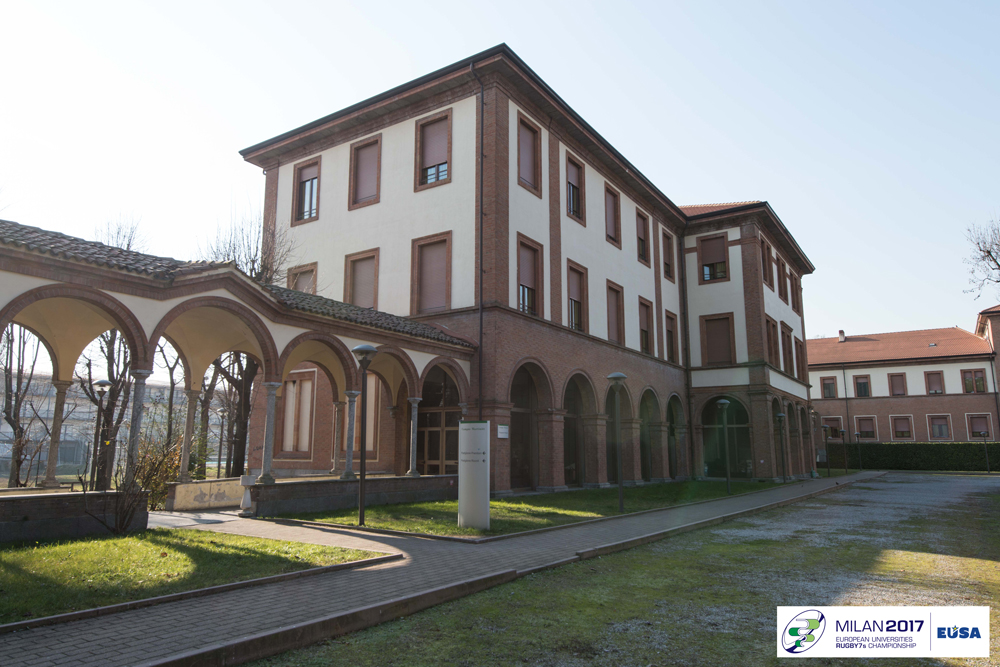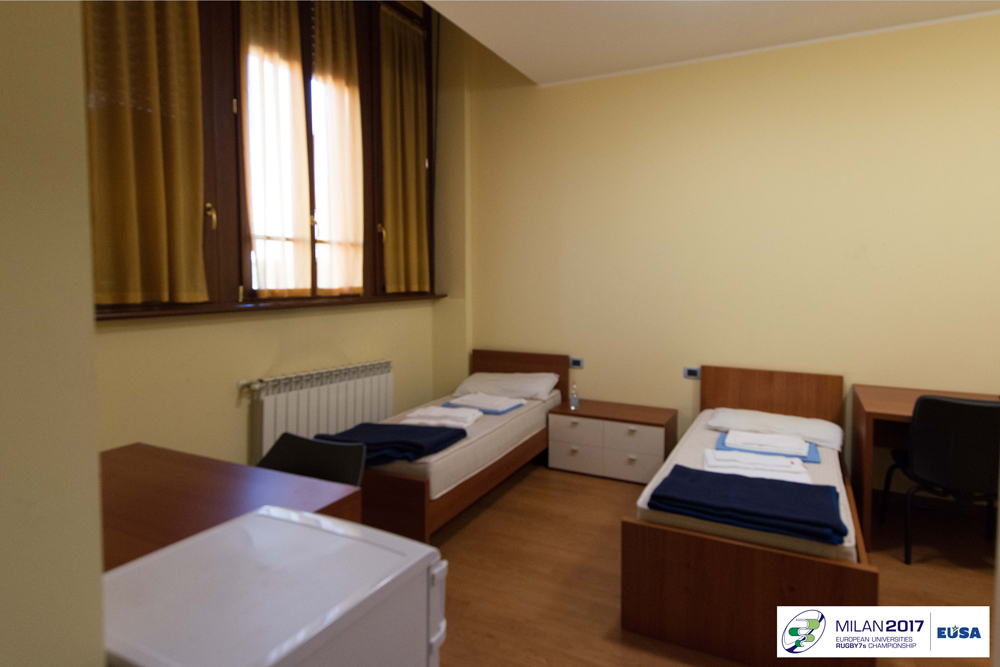 CATERING
Athletes, teams' staff and match officials will have breakfast at Martinitt's bistro, while for lunch and dinner they will move to CIDiS restaurant, that is just outside the tournament venue (5 minutes on foot).
MEALS TIMETABLE
Breakfast        08.00am - 09.00am
Lunch             12.00am - 02.00pm
Dinner              6.30pm - 08.00pm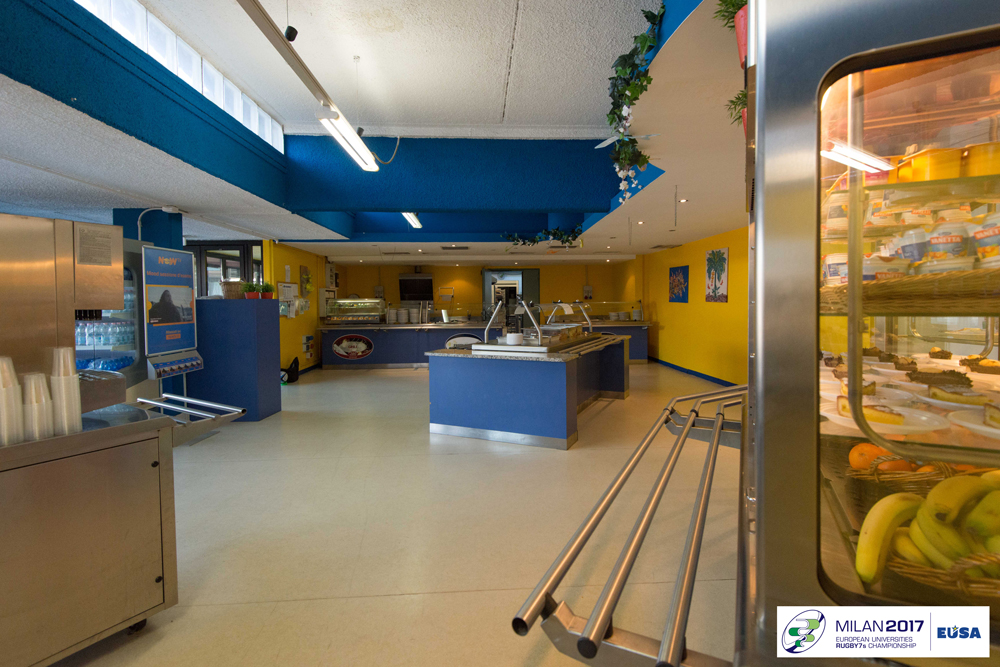 VOLUNTEER
The EUC Rugby 7s Organizing Committee will estimate the necessary number of volunteers to guarantee the smooth running of the event. Volunteers will be recruited between young persons and students from Milan's universities.
Foreign volunteers shall be integrated into the event with a specific program being designed in collaboration with the EUSA (http://www.eusa.eu/news?eusa-volunteer-programme-2017). The main aim of the programme is to give a chance for young students, who are interested in sports and in organizing sport events, to get the opportunity of experiencing a unique adventure, learning about the values of sport, and gaining valuable work experience through volunteering.
Photo Gallery